A belated happy (merry?) Earth Day everyone! I hope that you all gave a proper nod to the amazing planet that we live on. In recognition of Mother Earth and the great things that she does for us (oxygen is pretty badass guys), I wanted to focus on some great eco-friendly looks that any geek would be proud to rock, so read on!
The city that I live in is rife with twenty-somethings that have just recently discovered patchouli and think that not bathing should be completely socially acceptable. This is not what I mean when I say "hippie chic." To me, hippie chic is a look achieved with sustainable materials that is comfortable, flowy, and doesn't make people think that the last time you bathed was Christmas.
A simple way to think green when it comes to fashion is paying attention to what your clothing is made of. I find the number of sellers on etsy that use organic cotton and hemp blends for their clothing to be refreshing; materials like these leave a much smaller footprint and therefore you can look fabulous while making Mother Earth proud. When you hear things like "organic cotton and hemp," I'm sure that the first thing that comes to mind is something drab that resembles rough spun but that just isn't the case. You can find many colorful pieces like the skirt, dress, and halter top below and a lot of sellers let you chose what color you would like them to dye your garment (many using organic dyes). No matter what you chose for your hippie chic attire, don't forget to let your geek flag fly high; this amazing Captain Planet Earth Planeteer ring is perfect for that in my opinion!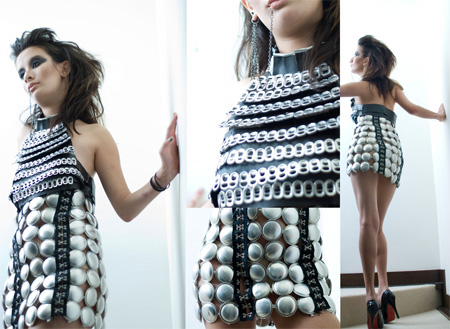 If hippie chic isn't really your thing, don't fret; you can still think green and keep your threads a little more urban. My favorite trend that is built around the use of upcycled materials is aptly called trashion. Trashion is just what it sounds like: turning trash into fashion. Should you Google it, you will mostly get images of dresses made of beer cans and newspapers, which is absolutely amazing but not something that you could functionally wear out. Things like shredded t's and bleach-dyed articles of clothing like shorts or tights fall under the trashion category. Not only is the look edgy and makes me think zombies and post-apocalyptic mayhem, it can make use of items of clothing that has been stained or (for a shredded T) may be a little too snug if you wanted to stretch your own DIY muscles. Or you can let someone else do the work by checking out the sellers below.
No matter how you want to express your inner green geek never hesitate! There are many ways to help keep Mother Earth looking just as fabulous as you do so get out there and make a difference.